---
PAP003 KING DUBEAR – FROM THE BEAR'S DEN CHAPTER ONE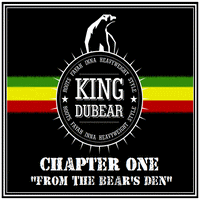 It is just the beginning of the year 2010 and Paproota Dub Netlabel prepared for You another release. This time it is an EP containg 6 tracks made by King Dubear from Ostróda PL. "From The Bear's Den – Chapter One" is a piece of music deeply rooted in digital dub/steppers mood. It derives from the author's liking of Jah Shaka, Iration Steppas and Aba Shanti I, however, this album is distinguished by characteristic synth elements.
DOWNLOAD PAP_003 King Dubear – From The Bears Den Chapter One(EP)
(.rar file, mp3 high quality 256 kbps, 51,8 MB)



FROM THE BEAR'S DEN – CHAPTER ONE (EP)

by KING DUB BEAR is licensed under a Creative Commons.